 What is the definition of Visual Impairment?
Low vision refers to having a visual acuity of 20/70 to 20/400 with the best possible correction, or a visual field of 20 degrees or less.
Blindness can be described as having a visual acuity of 20/400 or lower with the best possible correction, or a visual field of 10 degrees or less.
"Legally Blind" is a term used typically referring to having a visual acuity of 20/200 or less with the best correction, or having a visual field of 20 degrees or less. It is important to remember, visual impairments vary greatly from person to person and are unique to each individual.
​​​​​​​
What do visual acuity numbers mean?
20/20 is classified as having "normal" vision. The chart in with the large "E" at the top is called the Snellen chart, and it is typically used to determine a person's acuity.
20/100 means that what a person with normal vision sees from 100 feet away, the individual must be 20 feet away to see it.
Vision Services
Services from a licensed Teacher of Students with Visual Impairments (TVI) cover teaching the skills a student will need to access the core curriculum. In addition, TVIs are responsible to teach concepts that most sighted students master incidentally by observing others, but are missed by students with visual impairments. These additional skill sets that need instruction are called the Expanded Core Curriculum (ECC).
Some examples of services provided by the TVI include:
Evaluating Visual Functioning and Determining Educational Plans

Conducting Learning Media Assessments

Braille Instruction

Braille or enlarge school materials

Use of Tactile Materials and Symbols

Assistive Technology Instruction

Instruction in independent living skills

Reinforcing Self-Advocacy Skills

Auditory Equipment Use

Collaborating with Classroom Teachers and Other Service Providers

Support P.E. teacher in modifications

Assist with social skills/activities

Reinforcing Existing Visual Skills and Performance
Inclusionary Factors
Students must have an updated ocular report from the eye doctor, within one year, to receive services.
Students who are eligible for vision services would include the following:
Decreased visual acuity in the better eye after correction

Decreased visual field

Changing and/or degenerative eye condition

Medically diagnosed cortical visual impairment
Exclusionary Factors
To receive vision services, the visual impairment must adversely affect educational performance and the student's ability to access the curriculum, along with an educational need.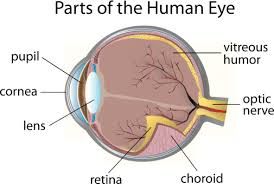 Vision Concern Checklist
The process of receiving vision services begins when there are concerns about a child's vision. The following is a list of the ABC'S of vision problems. If a student is experiencing difficulties using their vision, the first step is to take the student to an optometrist or ophthalmologist to determine the cause, receive a visual diagnosis, approximated visual acuity, and determine if the student needs to be referred for school based vision services.
APPEARANCE
One or both eyes turn inward or outward, or one is slightly higher or lower than the other eye.

Crusty or red eyelids or red eyes.

Eyes that are in constant, rapid motion.

Drooping eyelids(s)

Pupils of different sizes, or different reactions to light.

Glands that are enlarged, inflamed, or otherwise infected.

Excessive tearing, light sensitivity, lid spasms.
COMPLAINTS
Sensitivity to light.

Burning or itching of eyes or eyelids.

Seeing double, or blurred vision.

Headaches, usually after a critical visual task.

Nausea or dizziness.
BEHAVIOR
Lack of or reduced eye contact.

Shows poor eye muscle coordination.

Covers/closes eye for critical seeing.

Thrusts head forward to see distant objects.

Tilts head to one side for critical seeing.

Tries to "brush away" a blur.

Rubs eyes often or blinks often while reading or looking at books.

Frowns or squints when looking at or trying to see distant objects.

Stumbles often over objects.

Holds book, toy, or picture too close or too far away.
SCHOOL RELATED
Difficulty copying from the board.

Difficulty with handwriting.

Confuses similar words.

Needs more light to read than expected.

Reading comprehension deteriorates with time.

Doesn't read to the end of a sentence before going to the next.

Head moves instead of eyes when reading or looking at pictures.

Loses place when reading, skips lines.

Needs to use finger as a line marker.

Difficulty solving maze puzzles and word searches.

Math errors due to misalignment of numbers.
Checklist was adapted from: Teaching Students with Visual Impairments, teachingvisuallyimpaired.com
Resources
For those interested in the updated braille symbols, please click here for an updated UEB chart.