 My classroom is an...
Early Childhood (EC)
A special education preschool program that serves students with IEP's ages 3-5 Monday through Friday. Students require a smaller environment. Hours: 8:30 a.m. to 11:00 a.m. or 12:30 pm to 3:00 p.m.
A look inside our classroom...
Daily Schedule:
Arrival: The children will get off the bus (teachers and aides will always get the children off the bus.) Students will be brought to their neighborhoods by their teachers. At this time the student will independently hang up their book bags, jackets, and get their folders out.
Circle Time: During this time we will be sitting on the carpet and discussing the calendar, weather, shapes, colors, alphabet, numbers, and nursery rhymes. At times speech will do a large group activity during this time.
Play Centers - During this time (about 30 minutes) the children have the opportunity to play in the block area, house area, reading corner, art area, sensory table, and other activities the teacher has set up for the week/month. At this time the students have the opportunity to interact with other student while the teacher supervise the play.
Snack Time: Please send a daily snack for your child with his/her name on it. We will be eating snack together as a group. Examples of snacks; fish crackers, cheese crackers, fruit/veggies, fruit snacks, animal crackers, small bag of chips/cookies. If your child does not eat their snack for the day, we will try and send it back in their book bags. *Please let us know if your child as any allergies.
Bathroom: During snack time we will be asking and taking the children to the bathroom. Please let us know if your child has any bathroom concerns. If your child is not potty trained yet, please send in extra diapers, wipes, and clothes. When you do decide to start potty training, please let us know so we can help with the process.
Learning Centers: During this time, the children will be split into two or more small groups. Each group will work 10-15 minutes or so with a teacher on a fine motor, art project, or concept-based activity. The students will then switch to the next table where they will have another activity. During the week speech, social work, and OT will come in and do a group station.
Story Time: A story is read by the teacher that coincides with the theme, season, or holiday of the week.
Outside play: The children will have the opportunity to play on the playground equipment or other activities if the weather is permitting. Sometimes we will be able to use the gym if the weather is not good. Please make sure your child is wearing shoes with backs (no sandals, gym shoes are best) so that they can play safely. Also, your child should dress appropriate for the weather.
Our

Specials:
We will be participating in special activities throughout the week.
Gym: The children will be attending P.E. class with Mr. L on Thursday. He will be focusing on different gross motor skills. Please send your child with appropriate gym shoes on these days.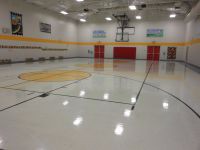 Library: We will be visiting the library on Tuesdays where Ms. Trimby will share stories with us. Ms. Trimby often uses music and games to engage the children as well. At this time children will not be checking out books.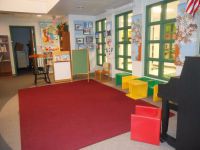 Art/Music: We will have music/art with Ms. Sam on Mondays. During this time she will have a music activity or an art activity to go along with the season/holiday.