 About Me This fall will be my eleventh year here at Liberty Junior High School!
I've been studying Spanish for 22 years now! I started in junior high school just like you! I have my Bachelors of Arts in Spanish Language and Culture. I've done graduate studies abroad in Valladolid, Spain and Antigua, Guatemala. My favorite part of the language is communicating with people from all over the world! I love having conversations with people who are just excited to speak with someone who knows their language.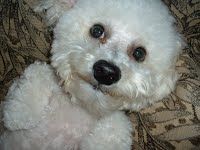 ¡Mi perro, Cherub!
Quick Facts
Years Teaching:
10
Favorite Thing About Teaching:
I love when students come back to class and share how they've been able to utilize their Spanish skills in the real world!
Graduated From:
Northern Illinois University
Hobbies:
Reading, cooking, biking, swimming, walking, traveling
Favorite Book:
Eat, Pray, Love by Elizabeth Gilbert