 6th Grade Band Schedules
Ridge 6th Grade Band Sectional Schedule:
6th_Grade_Ridge_Sectional_Schedule_2019.docx.pdf
Oakview 6th Grade Band Sectional Schedule:
6th_Grade_Oakview_Sectional_Schedule_2019.docx.pdf
6th Grade Morning Band Rehearsal Schedule:
6th_Gr_Morning_Band_Rehearsals_2019-20.docx.pdf
Concert Information:
*Tues., November 12, 2019 - 7:00 p.m. - 6th Gr. Band and Orchestra/Jazz Band/Allegro, Liberty Jr. High Gym
2019_6th_Grade_Band_Fall_Concert_Information.pdf
*Sat. February 15 or 22 - IGSMA Solo and Ensemble Contest - for students who would like to participate (our school will be assigned one of the days to attend the contest, so I will let you know when the exact date is finalized)
*Thurs., February 20, 2020 - 7:00 p.m. - 5th & 6th Band and Orchestra Concert, Liberty Junior High Gym
*Tues., May 12, 2020 - 7:00 p.m. - 5th & 6th Band Spring Concert, Liberty Junior High Gym
*Wed., May 27, 2020 -5:00-8:30 p.m. - 6th Grade Band Performs at Liberty JHS 8th Grade Graduation Ceremony
Uniform:
This year, all 5th and 6th Grade Band members will wear the same uniform which will consist of semi-formal attire in shades of black, white and gray.
Some examples include: dress pants with a button down shirt (tie optional) or blouse, school appropriate skirt with blouse, school appropriate dress with dress shoes.
Since our first concert is not for several months, that should hopefully give everyone time to check out their closets to see if you already own the items mentioned above or to check the various sales and clearance racks at the stores.
About the 6th Grade Band
Morning Band: The 6th Grade Band meets before school from 7;00a.m. to 7:40a.m. two days a week before school at Liberty JHS. Parents and/or organized car pools will need to transport students to morning rehearsals. The students will be bused to their grade schools at the end of rehearsal.
Sectionals: Students will also have sectionals once a week at their schools. This ensemble's focus is to advance second year players' musicianship and to prepare students for the Junior High Band experience.
Concerts: Several formal concerts are scheduled for this group throughout the year. See 6th Grade Band Schedule drawer for the exact dates, times, and locations of all performances as well as uniform expectations.
Remind: Once again, I will be utilizing the FREE texting service, Remind, to send important band reminders about performances, morning band, sectionals, etc. Please sign up to help stay informed!
Oakview 6th Grade Band - text @6oakband19 to 81010
Ridge 6th Grade Band - text @6nrband19 to 81010
6th Grade Band Weekly Newsletter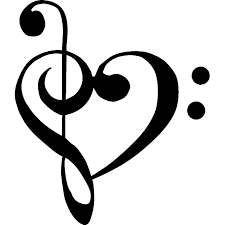 Music is life. That's why our hearts have beats.