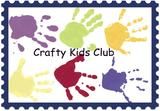 Sponsors: Mrs. Liescke and Mrs. Scanlon
Welcome to Nelson Ridge's Crafty Kids Club!
If you like to be creative with paper or clay, cut and glue, or glitter and sew, then this is the club for you!
The crafts that you make will be yours to keep and take.
This club is open to all 4th through 6th graders.